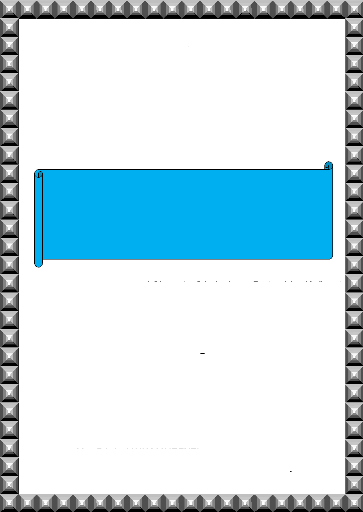 NATIONAL UNIVERSITY OF RWANDA
FACULTY OF ARTS MEDIA AND SOCIAL SCIENCES
DEPARTMENT OF SOCIAL SCIENCES
OPTION OF SOCIOLOGY
ACADEMIC YEAR 2011
THE SOCIOLOGICAL STUDY ON ENVIRONMENTAL CONSERVATION AS MEANS OF ACHIEVING SUSTAINABLE DEVELOPMENT IN RURAL AREAS IN RWANDA.
Case study: Kitabi sector / Nyamagabe District
A Dissertation Submitted to the Faculty of Arts Media and Social Sciences Partial Fulfillment of the Requirements for the Award of Bachelor?s Degree in Sociology
By
Vianney NSANGANIRA
Supervisor: Mrs. Béatha MUKAMURENZI
Huye, October, 2011

DECLARATION
I, Vianney NSANGANIRA declare that to best of my knowledge, the research work presented in this dissertation is my original. None has presented it in the National University or elsewhere for any award. Where the work of other individuals was consulted, were indicated in the references.
Student signature
Date / /2011
Vianney NSANGANIRA

DEDICATION
.
To my Almighty God
To my beloved parents
To my brothers, Fabien IRAGUHA, Claude KALISA
and Jacques IRAKIZA
To my sister Josiane BAYISENGE
To my Aunt Asnathy NAKURE
To My Friends Faustin TWAGIRAYEZU and Abraham UWARIRAYE

ACKNOWLEDGEMENT
I would like to extend my sincere gratitude and consideration to those who supported me directly or indirectly in carrying out this research.
First and foremost I thank God Almighty for providing me grace and wisdom to complete this dissertation. I would like to express my sincere and heartfelt thanks to my father and mother.
I would like to express my sincere consideration to the government of Rwanda via N.U.R for sponsorship awarded to me in every aspect as far as academic issues is concerned benefited during the last four years, my education became a quality-based knowledge to the best of their capacity.
Never can I forget my Supervisor, Madam. Béatha MUKAMURENZI whose supervision, criticisms and guidance were so much empowering, even though she was very occupied by different academic activities, but she accepted to bear the responsibility of taking over with her generous heart during the course of this dissertation; I owe her profound appreciation.
Special thanks go to my fellow students and friends for their limitless love during my study. May GOD, the Almighty bless us all.
iv
TABLE OF CONTENTS
DECLARATION i
DEDICATION ii
ACKNOWLEDGEMENT iii
LIST OF ABBREVIATIONS viii
LIST OF TABLES ix
ABSTRACT x
CHAPTER ONE: GENERAL INTRODUCTION 1
1.1. Background of the study 1
1.2 Statement of the problem 2
1.3. Research question 5
1.4. Research hypothesis 5
1.5. Significance of the study 5
1.6. Objectives of the study 5
1.6.1. General objective 5
1.6.2. Specific objectives 5
1.7. Scope of the study 6
1.8. Organizational of the study 6
CHAPTER TWO: DEFINITION OF CONCEPTS AND THEORETICAL FRAMEWORK
7
2.1. The concept of environmental conservation 7
2.1.1. Environment 7
2.1.1.1. Characteristics of Rwandan environment 8
2.1.1.2. Rwandan environmental problems. 10

2.1.1.3. Environment and economic growth 12
2.1.1.4. Rwanda environmental concerns of the international contexts 13
2.1.1.4.1. Climatic changes 13
2.1.1.4.2. Ozone layer depletion 13
2.1.2. Environmental conservation 14
2.2.1. Necessary conditions for the population implication in environmental conservation
activities 14
2.2.2. Environment Management Systems (EMS) 15
2.2.2.1. Best practices of Environment Management Systems (EMS) 15
2.2.2. Environmental conservation and sustainable development in Rwanda. 16
2. 2. Concepts of sustainable development 16
2.2.1. Sustainability 16
2.2.2. Development 18
2.2.2.1. Causes of development 19
2.2.2.2. Obstacles to development 20
2.2.3. Sustainable development 21
2.2.2.3.1. Integration of environmental conservation in agricultural sector for sustainable development 22
2.2.2.3.2. Integration of environmental conservation in the commerce for sustainable
development 23
2.2.2.3.3. Integration of environmental conservation into economic growth for sustainable development 24
2.2.2.3.4. The integration environmental conservation in local government for sustainable development 24
2.3. The concept of rural areas 25
2.3.1.3. Objectives of having sustainable development in rural areas 27
CHAPTER THREE: DESCRIPTION OF THE STUDY SITE AND METHODOLOGY 29
3.1. Description of the study site 29
3.2. Methodology 30
vi
3.3. Population 30
3.5. Purposive sampling 31
3.6. Techniques of Sample selection. 31
3.7. Source of Data 32
3.7.1. Primary data 33
3.7.2. Secondary Data 33
3.8. Techniques of Data collection 33
3.8.1. Documentary analysis/ Documentation 33
3.8.2. Questionnaire 33
3.8.3. Interview 33
3.8.4. Observation 34
3.9. Data processing and analysis 34
3.9.1. Tabulation 34
3.9.2. Editing 34
3.9.3. Coding 34
CHAPTER FOUR: DATA PRESENTATION, ANALYSIS AND INTERPRETATION OF THE FINDINGS 35
4.1. Presentation of the findings 35
4.2. Section one: demographic characteristic of respondents 35
4.2.1. Distribution of respondents by sex, age and education level 35
4.3. Section two: Qualitative section or Field data analysis 37
4.3.1 Respondents? views on the understanding of environmental conservation and sustainable development in their area. 37
4.3.2. Respondents? views on the impact of environmental conservation for sustainable
development 39
4.3.3. Respondents? views on the activities developed through the presence of NNP. 40
4.3.4. Respondents? views on how environmental conservation maintains sustainable development in rural areas. 41
vii
4.3.5. Respondents? views on the importance of environmental conservation 42
4.3.6. Respondents? views on environmental problem in Kitabi 43
4.3.7. Respondents views about how local populations were allowed in the participation of environmental activities. 44
4.3.8. Respondents? views around the Nyungwe National Park on how their economic
development changed. 45
4.3.9. Respondents? views on environmental policy and its importance to Rwandan rural
areas 46
4.2.10. Benefits from Nyungwe National Park 47
4.2.11. The linkage between environmental conservation and sustainable development of rural areas. 48
4.4. Qualitative analysis of the data got from the interview with the local leaders of Kitabi
sector. 49
4.4.1. The role played by the local leaders in environmental conservation for achieving
sustainable development in rural areas. 49
4.2.2. Respondents? views on how environmental conservation could be best implemented
and lead to sustainable development in rural areas. 50
4.4.3. Suggested recommendations by the respondents for better environmental conservation
as a way of achieving sustainable development in rural areas 51
4.4.4. Linkage Between theories and findings from the field 51
4.5. Verification of the hypothesis 51
CHAPTER FIVE: CONCLUSION, RECOMMENDATIONS AND SUGGESTIONS FOR FURTHER RESEARCH 53
5.1. Conclusion 53
5.2. Recommendations 53
5.3. Suggestions for further research 54
REFERENCES 55