4.7 Housing demand in Kigali city
Statistics indicate that a single house costs about 20 million Rwandan francs. This means that total housing demand would require a financing package of up to 500 billion Rwandan francs per year. In a breakdown, Kigali city alone demands about 10,000 housing units per annum (MININFRA, 2008).Although the demand for housing has grown, involvement of the public and private sectors has not improved much from the 10% that was registered in 2003. Last year alone, the construction growth rate was estimated at 16% (MININFRA, 2008)
Rwanda needs about 25,000 housing units per year, a basic right for her citizens, quoted in the Istanbul declaration. This estimation is for urban centers of the country only.Due to the growing demand for housing in urban areas and the rapid development of slums, planning and organized settlement is becoming a complicated issue. Moreover, it appears that urbanization of principal urban centers in Rwanda resulted more from accumulation of the population often of rural origin, around the structured city and not from within, thus generating perimeters of sub-urbanized zones where the density reaches 700 people per km2. This spontaneous growth of urban centers has led to the breakdown of social functions and spatial segregation, with land wastage that blocks any attempts for sustainable development.
4.8 Strategies for housing low and medium income groups in Kigali city
Kigali as a capital city of a developing country faces many challenges. The numerous issues impeding Kigali city's growth include significant lack of infrastructure including water, electricity and waste management systems, inadequate garbage collection methods, poor drainage, poor roads, inadequate public transport network, insufficient housing supply and spontaneous settlements. In order to find solutions for these problems, Kigali city council is striving to design feasible, cost-effective and fair solutions through policies, guidelines, new laws and law reforms. With regard to housing issue, the city council faces a challenge of poor residents in informal settlements (Utujagari) who are not able to cope with the new housing development trend in Kigali city as stipulated by the adopted Kigali master plan.According to the master plan, every citizen of Kigali city will have access to basic needs and stay in a livable city environment: adequate housing, education and workplace opportunities, infrastructure and transport, healthcare and services, and quality of life.
Since a large part of the city is built with informal houses (above 70%), Kigali city council through different planning project phases is acquiring private land through expropriation to provide serviced land to real property investors. However in order to cater for expropriated persons, and prevent further development of informal settlements, Kigali city council developed `a model house project' in Kinyinya sector, Gasabo district. The model house project was used to show that local materials can be used to build decent and safe low-cost housing for expropriated persons and other low-income earning groups.The Batsinda housing project was initiated based on the model house to provide adequate housing and basic infrastructure to people that were expropriated from Ubumwe cell in Muhima sector as discussed in section 3.1 above.
Consequent to the CBD and Kimihurura gateway development projects for the transformation of prime land currently populated by slums into profitable schemes for maximum use of the land, there has been a challenge of providing alternative good quality yet affordable housing with all amenities to the people. However, projects are being developed for profits gained from these schemes to be applied in the development of subsidized and planned residential hubs for the relocated residents. These are Akumunigo and Kinyinya residential hubs which will exhibit easy accessibility to all services such as banking, shopping, recreational, income earning opportunities among many.The Kinyinya residential township project emphasizes adequate housing availability for city dwellers over an area of 338Ha. This scheme is to cater for all income brackets hence the term affordable housing. Kigali inner city is characterized by approximately 50% of informal and indecent settlements that need to be addressed.This does not rule out the different slums in the other parts of the city, however, the inner city slums are being immediately addressed because some of them have been established on prime land for modern development in the Central Business District.
Kinyinya residential township project commenced in January 2009 through a first phase that will cover an area of 26Ha and provide a total of 10,350 units. The figure below shows the housing prototype for Kinyinya residential township. As it is obvious from the figure below, many families will be accommodated in one multi-storey building hence reducing the surface area of the built environment and the scarcity of land.
Figure 8: Housing prototype for Kinyinya residential township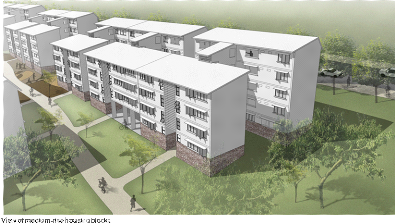 Source: Kigali city 2008; Urban renewal projects