3 RESEARCH METHODOLOGY
3.1 Study area
Kigali, the capital city of Rwanda is subdivided into 3 districts; Gasabo, Kicukiro and Nyarugenge. Amahoro cell which is the case study is found in Muhima sector, one of the 10 sectors comprising Nyarugenge District i.e. Gitega, Kinyinya, Kigali, Kimisagara, Mageragere, Muhima, Nyakabanda, Nyamirambo, Nyarugenge, and Rwezamenyo. Muhima sector is populated by 31, 866 people spread over 7 cells (Tetero, Kabeza, Kabasengerezi, Amahoro, Nyabugogo, Ubumwe, Rugenge) with a total area of 292 hectares. It is characterized by a habitat under-equipped and spontaneous. It is the subject of urban restructuring that is part of a pilot project of the new blueprint for the city of Kigali, which aims to make this site a hub of business.
Figure 1: Map of Muhima sector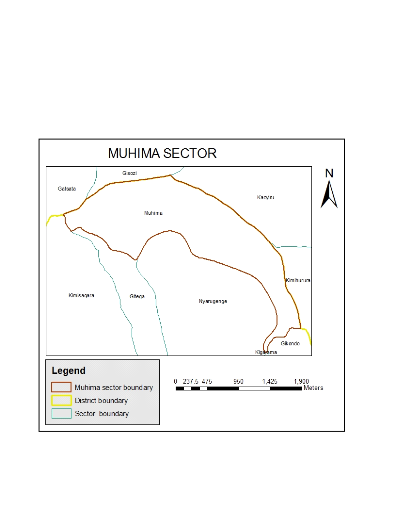 Source: Administrative boundaries of Rwanda; modified by author
Amahoro cell is further subdivided into six villages/ Imidugudu (see table 1):
Table 1: Number of households in Amahoro cell
Sector

Villages/Imidugudu

Number of households

Population

Total population

Muhima

Amahoro

130

843

5,083

Amizero

415

914

Inyarurembo

126

555

Kabirizi

256

847

Ubuzima

395

989

Uruhimbi

254

935
Source: Executive secretary/Amahoro cell
Amahoro cell is located at the northern part of Muhima sector as the following map shows:
Figure 2: Location of Amahoro cell in Muhima sector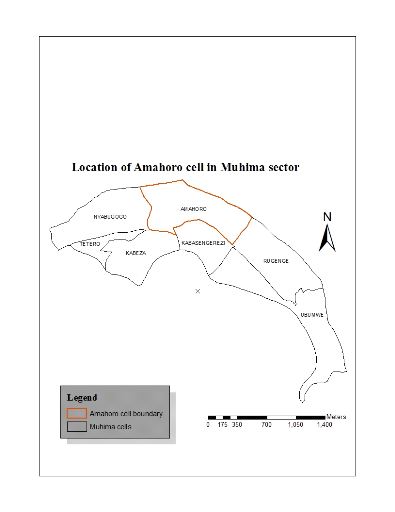 Source: Rwanda Natural Resources Authority
3.2 Data collection methods
Data collection techniques refer to a set of methods and principles that are used when conducting a study on a particular subject or doing a particular kind of research work. This part shades light on the different methods in which data needed for the research was obtained. These techniques included:
3.2.1 Secondary data collection
Secondary data used in this research was obtained from different publications from library and electronic sources. The publications are categorized as follows:
3.2.1.1 National documents and policies
In order to link the primary information and the researcher's ideas with the government programs, different policies and laws were reviewed.
3.2.1.2 Spatial datasets acquisition
Shape files of Rwanda administrative boundaries were extracted from the geodatabase of Rwanda natural resources authority in order to localize the study area on a map.
3.2.1.3 Academic documents
Dissertations and theses were consulted to find out how much work already done on the topic in different parts of Rwanda or other parts of the world by other academicians.