A STUDY OF THE BIRDS IN CENTRAL BANGKOK
(THAILAND) IN ORDER TO IMPLEMENT THE
BASIS OF A LONG TERM MONITORING
CAMILLE CALICIS
CO-PROMOTEURS: PR. MARIE-CLAUDE HUYNEN, PR. TOMMASO SAVINI
TRAVAIL DE FIN D'ETUDES PRESENTÉ EN VUE DE L'OBTENTION DU DIPLOME DE MASTER BIOINGENIEUR EN GESTION DES FORETS ET DES ESPACES NATURELS
ANNÉE ACADÉMIQUE 2013-2014
(c) Toute reproduction du présent document, par quelque procédé que ce soit, ne peut être réalisée qu'avec l'autorisation de l'auteur et de l'autorité académique de l'Université de Liège/Gembloux Agro-Bio Tech
Le présent document n'engage que son auteur

A STUDY OF THE BIRDS IN CENTRAL BANGKOK
(THAILAND) IN ORDER TO IMPLEMENT THE
BASIS OF A LONG TERM MONITORING
CAMILLE CALICIS
CO-PROMOTEURS: PR. MARIE-CLAUDE HUYNEN, PR. TOMMASO SAVINI
TRAVAIL DE FIN D'ETUDES PRESENTÉ EN VUE DE L'OBTENTION DU DIPLOME DE
MASTER BIOINGENIEUR EN GESTION DES FORETS ET DES ESPACES NATURELS
ANNÉE ACADÉMIQUE 2013-2014
I
ACKNOWLEDGEMENTS
Upon completion of this topic, I wish to sincerely thank all those who were in any way involved in its realization.
I want first of all to thank my two co-promoters, Pr. Marie-Claude Huynen and Pr. Tommaso Savini who allowed me to discover the world of ornithology in the incredible city of Bangkok and I sincerely thank them for their advices all along the redaction of the present work. Then, I would like to thank JuanMa for his warm welcome in Bangkok, for his help concerning the accommodation and the ways to go around the city. I don't know how I would have done without your little red bike. Thanks also to the wonderful folks I met in Bangkok: Mart', Lek et al., Jess, Barry and the amazing group «it's a bad idea», particularly Gwen and Franck. Thanks to all for the sharing, the support, the laugh...
Un tout grand merci à Marc Dufrêne et Anaïs Gorel, car sans eux pas de stats et sans stats... pas de TFE ! Vous vous êtes toujours rendus disponible quand j'avais des questions et je vous en suis très reconnaissante. Merci également au professeur Jan Bogaert pour ses pistes de discussion et à José Flahaux pour sa relecture consciencieuse.
Ensuite, au terme de ce master en Gestion des Forêts et des Espaces Naturels, j'aimerais remercier l'ensemble du cadre enseignant pour les différents cours prodigués lors de ces deux années de master. J'ai toujours apprécié la qualité des cours et le bon équilibre entre cours magistraux et visites de terrain. Merci de m'avoir accompagnée et transmis votre savoir !
Impossible de ne pas citer ensuite mes cokotteurs de ces dernières années aux Déchets et à l'Auberge, avec qui j'ai passé des moments inoubliables et sans qui la vie à Gembloux n'aurait surement pas été la même : Romy, Alex, Sosso, Chavroux, Pauline, Porco, Valou, Baz, Ana, Flo, Eme, Olivia, Boedts, Sophie, Renard, Arthur ainsi que François, Justine, Angeline, BM, Roxane, Constant, Mumu, Lewis, Val, Jey, Lio, Zara, Manon et Hélène. Et puisque bien entendu cette vie à Gembloux ne s'arrête pas au kot, j'ai une pensée pour mes complices du conseil, Fanfan, Sophie, Vic', Stritsky, Baz, Schreder, Const et Francky, je n'oublierai jamais ces merveilleux moments partagés ensemble. Un immense merci à Charles, Clément, Camille et Olivier, mes yolo d'acolytes de la rédaction, sans qui ce dernier mois n'aurait pas été si gay. Et pour finir, merci à Baptiste, Amandine, Henri, Kity, Scott et toutes les autres merveilleuses rencontres faites en ces bons vieux murs de Gembloux !
Pour terminer je ne remercierai jamais assez mes parents et mes trois petites soeurs, Claire, Chloë et Coraline, qui m'ont toujours soutenue à tous les niveaux, et sans qui je ne serais pas ce que je suis aujourd'hui ; ainsi que Thomas qui me supporte depuis presque deux ans.
Le voyage réalisé dans le cadre du présent travail a été rendu possible grâce au soutien financier de l'Académie de Recherche et d'Enseignement supérieur de la Fédération Wallonie-Bruxelles, Belgique (Commission de la Coopération au Développement)
II
ABSTRACT
Worldwide, urban sprawl, induced by current increasingly demographic pressure, has become a prominent concern in conservation ecology. Urban green patches are essential biodiversity hotspots in cities. Bangkok, capital of Thailand, is among the larger cities in Asia and did not escape the global growth of urbanization, fragmenting the green areas of its metropolis and seeing its biodiversity collapsing like elsewhere. As part of that thesis, we collected ornithological and environmental data into various green patches of Central Bangkok. Indeed, the goal of this study is to investigate the ornithological characteristics, together with the environmental factors affecting them in order to implement the basis of a long-term monitoring of the urban avifauna. Various indices were calculated to permit the description of the chosen green patches' ornithological and environmental characteristics. Then, different statistical methods were used in order to explain the previous calculated indices' and bird communities' distribution and how the environmental features affected them. We demonstrated that the green patch size and water cover rate influenced the most the ornithological characteristics indices in our study area. Several issues related to bird conservation in Bangkok are then discussed through the main findings of this thesis. Finally, perspective are set focusing on the fact that long-term data about birds collected across a city can help filling the gaps caused by our lack of understanding of the metropolitan landscapes design needs in order to better sustain the avian fauna in the cities.
Keywords: conservation ecology, urban green patches, birds, Bangkok, fragmentation, urban avifauna, monitoring, Southeast Asia
RÉSUMÉ
De par le monde, la croissance urbaine, conséquence d'une pression démographique exponentielle, est devenue une préoccupation capitale en écologie de la conservation. Les espaces verts urbains sont des importants centres névralgiques de biodiversité au sein d'une ville. Bangkok, capitale de la Thaïlande, fait partie des plus grandes villes d'Asie du Sud-Est et n'a pas échappé à la croissance urbaine généralisée. Les espaces verts de la métropole ont été intensivement fragmentés et la biodiversité s'est effondrée comme partout ailleurs. Dans le cadre de ce mémoire, nous avons recueilli des données ornithologiques et environnementales au sein de divers espaces verts dans le centre de Bangkok. En effet, l'objectif de cette étude est d'analyser les caractéristiques ornithologiques, ainsi que les facteurs environnementaux qui les affectent afin de mettre en place les bases d'un monitoring à long terme de l'avifaune urbaine de Bangkok. Divers indices ont été calculés pour permettre la description des caractéristiques ornithologiques et environnementales des espaces verts choisis. Ensuite, différentes méthodes statistiques ont été utilisées afin d'expliquer la distribution des indices précédemment estimés et de définir des communautés d'oiseaux. L'influence des caractéristiques environnementales sur ces distributions a ensuite été développée. Nous avons ainsi démontré que la taille et le taux de recouvrement en eau des espaces verts sont les deux variables environnementales qui influencent le plus la diversité ornithologique dans notre zone d'étude. Plusieurs suggestions pour la conservation des oiseaux à Bangkok ont ensuite été discutées à l'aide des principaux résultats apportés par ce mémoire. Finalement, les perspectives mettent l'accent sur l'importance d'un monitoring à long terme de l'avifaune au sein d'une métropole comme Bangkok.
Mots-clefs : écologie de la conservation, espaces verts urbains, oiseaux, Bangkok, fragmentation, avifaune urbaine, monitoring, Asie du Sud-Est
III
TABLE OF CONTENTS
I. INTRODUCTION 1

CONTEXT 1

RESEARCH QUESTIONS AND ASSOCIATED OBJECTIVES 2

WORK PLAN 2

II. LITERATURE REVIEW 3

IMPORTANCE OF BIODIVERSITY 3

II.1.1. Biodiversity in decline 3

II.1.2. The case of Southeast Asia 5

THE BIRDS STATE 6

II.2.1. Evolution of the birds of the Bangkok Area 6

II.2.2. Birds as environmental indicators 8

II.2.3. Bird monitoring 10

URBAN ECOLOGY 10

II.3.1. Cities as extinction or richness generator? 11

II.3.2. Importance of urban green spaces 11

II.3.3. Conservation keys to reduce the urban effects on birds: state-of-the-art 12

III. STUDY AREA 14

III.1.1. General context 14

III.1.2. Climate and Altitude 15

III.1.3. Land use 16

IV. METHODOLOGY 18
VEGETATION PATCHES SAMPLING 18
RAW DATA COLLECTION 20

IV.2.1. Ornithological surveys 20
IV.2.2. Environmental surveys 23
DEFINITION AND CALCULATION OF THE VARIABLES 25
IV.3.1. Ornithological variables 25
IV.3.2. Environmental variables 26
DATA ANALYSIS 28
IV.4.1. Ornithological distribution analyses 28
IV.4.2. Ornithological communities analysis 30
IV.4.3. Environmental characteristics analyses 33
IV.4.4. Environmental explicatory factors of the ornithological distribution analysis 34
V. RESULTS 36
ORNITHOLOGICAL DISTRIBUTION ANALYSIS 36
V.1.1. Species Richness 37
V.1.2. Abundance Distribution 41
V.1.3. Biotic homogenization index 43
ORNITHOLOGICAL COMMUNITIES ANALYSIS 45
V.2.1. Structure of the Ornithological data 45
V.2.2. Indicator Species 46
ENVIRONMENTAL CHARACTERISTICS 47
V.3.1. Correlations matrix of the environmental variables 47
V.3.2. Principal Component Analysis of the environmental variables 48
ENVIRONMENTAL FACTORS EXPLAINING THE ORNITHOLOGICAL DISTRIBUTION 51
V.4.1. Indirect gradient analysis 51
V.4.2. Generalized linear models 52
V.4.3. Direct gradient analysis 54
VI. V

DISCUSSION 56

HOW IS THE AVIFAUNA CHARACTERIZED AND DISTRIBUTED INTO GREEN PATCHES SITUATED IN THE CENTER OF THE BANGKOK

METROPOLIS? 56

HOW DO THE ENVIRONMENTAL PARAMETERS OF THOSE GREEN PATCHES INFLUENCE THE BIRD DISTRIBUTION? 58

IMPLICATIONS FOR CONSERVATION 61

STUDY LIMITS 60

VI.4.1. Limits regarding the study scope 60

VI.4.2. Limits concerning the bird data collected 60

VI.4.3. Limits due to the choices of environmental indices 61

VII. CONCLUSION AND PERSPECTIVES 61

VIII. BIBLIOGRAPHY 63
VI
LIST OF ABBREVIATIONS
AICc - small sample size Akaike's Information Criterion
BMA -Bangkok Metropolitan Administration
CSI-Community Specialization Index
e.g.- exempli gratia (for example)
GIS - Geographic Information System
GLM - Generalized linear models
GPS - Global Positioning System
i.e. - id est (that is)
IBA - Important Bird Area
IBT-Island Biogeography Theory
PCA-Principal Component Analysis
PCoA- Principal Coordinate Analysis
Pers. obs. - Personal observation
RDA - Redundancy Analysis
RSE - Residual Standard Errors
SSI-Species Specialization Index
VII
LIST OF FIGURES
FIGURE 1: ORGANIZATION OF THE THESIS RESEARCH QUESTIONS AND OBJECTIVES 2
FIGURE 2: FUNCTIONS PROVIDED BY THE ECOSYSTEM 4
FIGURE 3: SPECIES RICHNESS AND ENDEMISM IN THE FOUR BIODIVERSITY HOTSPOTS OF SOUTHEAST ASIA.) 5
FIGURE 4: BIRD SPECIES DISTRIBUTION INTO THE IUCN RED LIST CATEGORIES. 7
FIGURE 5: LOCALIZATION OF THE STUDY AREA. 14
FIGURE 6: BANGKOK CLIMATE CHART 15
FIGURE 7: MAP OF THE PATCHES SAMPLED IN CENTRAL BANGKOK 20
FIGURE 8: DIGITALIZATION OF THE LAND COVER 23
FIGURE 9: METHOD USED FOR THE ORNITHOLOGICAL COMMUNITIES ANALYSIS 31
FIGURE 10: CUMULATIVE RICHNESS CURVES FOR THE PATCHES NO.3 AND NO.8 38
FIGURE 11: MAP OF THE SPECIES RICHNESS PER PATCH IN THE STUDY AREA 39
FIGURE 12: AMOUNT OF SPECIES CHARACTERIZED BY DIFFERENT DISTRIBUTION (NUMBER OF RECORDS) IN THE STUDY AREA. 40
FIGURE 13: MAP OF THE SHANNON INDEX OF DIVERSITY PER PATCH IN THE STUDY AREA 41
FIGURE 14: AMOUNT OF SPECIES INDIVIDUALS CHARACTERIZED BY DIFFERENT RELATIVE DENSITIES IN THE STUDY AREA. 42
FIGURE 15: COMMUNITY SPECIALIZATION INDEX (CSI) DISTRIBUTION IN THE STUDY AREA 43
FIGURE 16: COMPARISON OF THE DESCRIBING PARAMETERS OF THE ORNITHOLOGICAL DATA CALCULATED IN THE 25 PATCHES STUDIED 44
FIGURE 17: DENDROGRAM FORMED OUT OF THE WARD'S MINIMUM VARIANCE METHOD 45
FIGURE 18: FACTORIAL DESIGN CREATED WITH THE TWO FIRST AXIS OF THE PCOA CONCERNING THE ABUNDANCE DATA 46
FIGURE 19: REPRESENTATION OF THE ENVIRONMENTAL VARIABLES IN THE PEARSON AND SPEARMAN CORRELATION CIRCLES FORMED BY
THE TWO FIRST AXES OF THE PCA 49
FIGURE 20: FACTORIAL DESIGN CREATED WITH THE TWO FIRST AXIS OF THE PCA CONCERNING THE ENVIRONMENTAL DATA 50
FIGURE 21 REPRESENTATION OF THE ENVIRONMENTAL VARIABLES TOGETHER WITH THE ORNITHOLOGICAL DESCRIPTIVE PARAMETERS IN THE
PEARSON AND SPEARMAN CORRELATION CIRCLES FORMED BY THE TWO FIRST AXES OF THE PCA. 51
FIGURE 22: RESIDUALS PLOTS OF BEST GLM 53
FIGURE 23: RESIDUALS PLOTS OF BEST GLM 54
FIGURE 24: REPRESENTATION OF THE SPECIES ABUNDANCE AND ENVIRONMENTAL VARIABLES IN THE PLOT FORMED BY THE TWO FIRST AXES
OF THE RDA 55
VIII
LIST OF TABLES
TABLE 1: SYNTHESIS TABLE BRINGING CONSERVATION KEYS IN ORDER TO ALLEVIATE THE EFFECTS OF URBANIZATION ON BIRDS. 13
TABLE 2: AREA OF MAIN LAND USES IN BANGKOK 16
TABLE 3: LAND COVER TYPE DESCRIPTION 24
TABLE 4: CRUDE ORDINAL SCALE OF ABUNDANCE DEDUCTED FROM THE ENCOUNTER RATE DATA 25
TABLE 5: PARAMETERS DEFINING THE PATCHES 26
TABLE 6: LANDSCAPE INDICES 27
TABLE 7: OBSERVED AND ESTIMATED REAL RICHNESS WITHIN THE PATCHES 37
TABLE 8: SPECIES SELECTED VIA THE INDVAL METHOD AS BEING SIGNIFICANTLY ASSOCIATED TO A GROUP OF SITES 47
TABLE 9: PEARSON AND SPEARMAN CORRELATION COEFFICIENTS BETWEEN THE ENVIRONMENTAL VARIABLES AND THE TWO AXES OF THE
PCA. 49
TABLE 10: PEARSON AND SPEARMAN CORRELATION COEFFICIENTS BETWEEN THE ORNITHOLOGICAL VARIABLES AND THE TWO AXIS OF THE
PCA. 51
TABLE 11: GENERAL LINEAR MODELS AND SUMMARY STATISTICS FOR ORNITHOLOGICAL VARIABLES 52
TABLE 12: PEARSON AND SPEARMAN CORRELATION COEFFICIENTS BETWEEN THE ENVIRONMENTAL VARIABLES AND THE TWO AXES OF THE
RDA 55
IT CAN SEEM WEIRD TO STUDY THE BIRD IN A CITY
LIKE BANGKOK METROPOLITAN...
YOU COULD THINK THAT THERE ARE ONLY PIGEONS
THAT EVERYONE TRIES TO GET RID OF...
...BUT THIS THESIS WILL SHOW YOU THAT BIRD IS AN
INCREDIBLE TAXA IN WHICH A LOT OF SPECIES
MANAGE TO ADAPT TO EVEN THE NASTIEST HABITAT
I. INTRODUCTION
1
CONTEXT
Bangkok, capital of Thailand, is among the larger cities in Asia with an estimated unofficial population of more than 10 million people (THAIUTSA et al., 2008) and did not escape the global growth of urbanization, fragmenting the green areas of its metropolis and seeing its biodiversity collapsing like elsewhere in Southeast Asia (SODHI et al., 2004; SODHI and BROOK, 2006).
Urban ecology actions are more urgent now than they have ever been, especially in developing countries that contain some of the world's largest metropolitan areas. According to the World Urbanization Prospects (UN, 2012), Asian cities host about half of the urban population of the world, with this number expected to increase by 1.7 times over the next four decades.
The Southeast Asian region is characterized by four biodiversity hotspots. When coupling that high biodiversity with the high human population density, the region comes to be one of the most endangered biodiversity hotspots where demographic and economic pressures have led to extensive conversion of forests and overexploitation of coastal resources (WILLIAMS, 2012).
Studies of the avian fauna in metropolitan areas show that cities generally remain hostile places to most native bird species. However, these areas in which people live, work and play could take on an increasingly vital role in sustaining biological diversity (TURNER, 2003). Wildlife diminution rates can only be arrested by reconciling activities in production landscapes (agriculture and urban) with the conservation of nature (ROSENZWEIG, 2003). Long-term data about birds collected across a city can help filling the gaps caused by our lack of understanding of the metropolitan landscapes design needs and allow to better sustain the avian fauna in the cities (TURNER, 2003).
Two features of importance will be especially highlighted throughout this master thesis. First, in a general context of decline and homogenization of populations of urban birds (DEVICTOR et al., 2008; MCKINNEY, 2006; SAX and GAINES, 2003), it is a key applied issue to understand and to predict their distribution and persistence in the modern, fragmented landscapes humans created. Second, urban green spaces are an essential foundation for a healthy population, a healthy economy and for ecological balance in any city (BOLUND and HUNHAMMAR, 1999; WHO, 2008) and it is thus essential to predict how their environmental composition affects birds to better understand the value of those urban green spaces (KOSKIMIES, 1989).
The impact of the intensive environmental changes on the avian fauna of Bangkok haven't been studied yet and long-term data on multi-species distribution are inexistent (ROUND, 2008). Thereby, a first step would be to study the distribution of existing avian fauna in Bangkok to establish a long-term monitoring and set priorities for its long term conservation.
2
RESEARCH QUESTIONS AND ASSOCIATED OBJECTIVES
This thesis reports on surveys of the avifauna within various vegetation patches of Bangkok with the aim of providing basis for long term monitoring actions.
In order to best achieve the stated goal, we centered our work on two principal research questions and the ensuing objectives (Figure 1).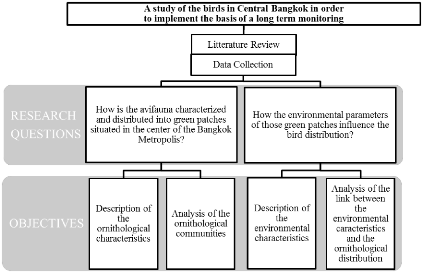 Figure 1: Organization of the thesis research questions and objectives
After having achieved the present objectives, the basis to implement a long term monitoring will be set and a discussion will be oriented to bring preferences for Bangkok avifauna conservation.
WORK PLAN
This master thesis is divided into 7 sections. To put things into context, the first two sections consist in a brief introduction, followed by a literature review supporting the general framework of the study. Then, the third section will describe the area in which the study was realized. Section 4 will present the methodology and the analyses that we used in order to reach the objectives previously described. Section 5 will then show the results of the analyses and sections 6 and 7 will discuss and conclude the results obtained, finalizing with the perspectives regarding the long-term monitoring.