UNIVERSITE DE CAEN BASSE-NORMANDIE
Unité de Formation et de recherche
des Langues Vivantes Etrangères
Département d'anglais
Confinement in Paul Auster's
Moon Palace and The New York Trilogy.
Travail d'Etude et de Recherches
présenté pour l'obtention de
La MAITRISE
Par
Alexis Plékan
Directeur d'Etudes:
Madame Dominique Delasalle
Session de novembre 2001
I wish to thank Dominique Delasalle for her interest in my ideas and my parents for their support.
To Sophie,
«he remembers speculating that perhaps the entire world was enclosed in a glass jar and that it sat on a shelf next to dozens of other jar-worlds in the pantry of a giant's house.» Paul Auster, The Invention of Solitude, page 168.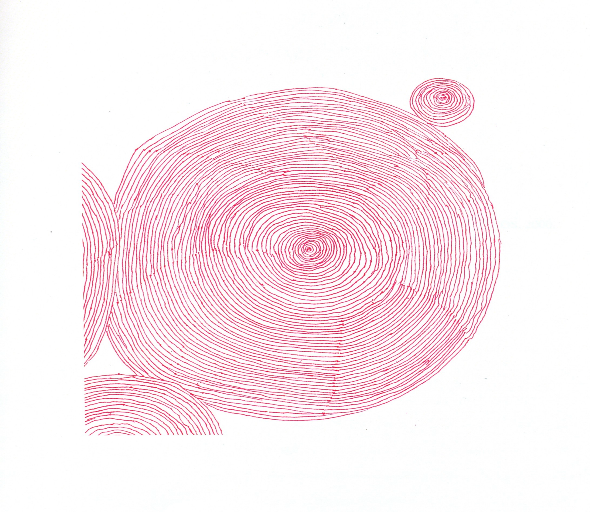 ? January 24/25, 1995. (detail)
Signed on recto, lower right, in red felt-tip pen: `LB'.
Red felt-tip pen, red ballpoint pen on cardboard.
9 x 11 ? inches.
LOUISE BOURGEOIS, The Insomnia Drawings. Zurich: DAROS. 2000.
CONTENTS
INTRODUCTION 9
I. SPATIAL CONFINEMENT
A SOCIAL DEATH

1 Disconnection.....................................................12

The room and the tomb....................................12

The island....................................................13

Metaphoric rooms...........................................14

2 Starving.............................................................16

Depletion.....................................................16

Flirting with death...........................................16

The monk and the hermit...................................17

B TOWARDS ORIGIN

1 The Room...........................................................19

The shelter...................................................19

The retreat...................................................20

The search for THE place.................................21

2 The Womb.........................................................22

The experience of the cave...............................22

Jonah or the resurrection..................................23

Gestation : birth or miscarriage..........................23

C SEARCH FOR HARMONY

1 Success and Failure..............................................25

The new man.................................................25

Reconnection.................................................25

Obliteration..................................................26

2 Art....................................................................27

The room : the matrix of artistic creation...............28

The artist in exile...........................................29

The hunger artist.............................................30
II. TELLING STORIES
A THE WRITING OF THE BOOK

1 Writing for Myself...............................................32

Motivations..................................................32

A paradoxical necessity.....................................33

Writing : moving inward and outward...................34

2 The Book...........................................................35

Books and notebooks.......................................35

The creation of another world.............................36

The limits of the book......................................37

B ENCIRCLING FICTION

1 The Russian-doll effect..........................................38

Moon Palace and The NewYork Trilogy : archipelagoes of stories......................................................38

Bridges between the spheres of fiction...................39

Stories about story-telling..................................40

2 Auster's fiction : a `City of the World'......................42

The characters : literary creations.........................42

Fiction: prison. Fate: manipulation........................43

To get out of the house of fiction.........................44

C THE AUTHOR-CHARACTERS

1 A search for Authorship........................................43

Characters in quest of their authors.......................46

Characters in quest of their fathers.......................47

Investigating.................................................47

2 Seeking for Authority............................................48

Playing the puppet-master.................................48

Control over life and death................................49

Who controls whom ?.......................................50
III. LANGUAGE
A WORLDS AND WORDS

1 Constitution of worlds...........................................53

The Library of the Universe...............................53

Worlds within the word....................................54

Language makes us / our world...........................56

2 Between the world and the self................................58

The inadequacy of the word................................58

The rift between thinking and writing...................59

Investigation of language /investigation of the self....60

B ATTEMPTS AT MASTERING LANGUAGE

1 To go back to the origins.......................................62

Babel..........................................................62

Giving names to things.....................................63

Giving names to people....................................63

2 To capture the essence...........................................67

Factuality : a failure........................................67

The achievements............................................68

Blank spaces.................................................70

C GASPING FOR CORRESPONDENCES

1 Transparency and liberty.......................................72

Between the man and the world : the sign...............72

Sign and communication...................................73

The need for transparency.................................75

2 Meaning............................................................77

Seeking connectedness......................................77

Beware of meaning.........................................77

Hermeneutics................................................79
CONCLUSION 82