Gaston Berger University of Saint -Louis
Faculty of Arts and Humanities
English Department
Master 1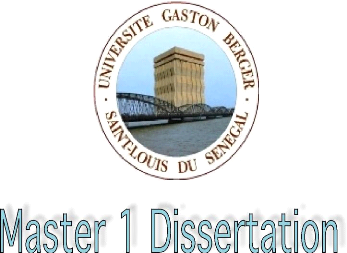 Topic:
The Influence of Djola Eegimaa on French in

Senegal
OPTION: LINGUISTICS / GRAMMAR
PRESENTED BY: SUPERVISOR:
Sébastien TENDENG Pr Mawéja MBAYA

ACADEMIC YEAR 2007-2008
TABLE OF CONTENTS
Dedication ..3
Acknowledgements 4
List of Charts, Maps, Tables and Appendices 5
List of Codes and Abbreviations 6
GENERAL INTRODUCTION 7
Chapter One: BACKGROUNDS 11
Eegimaa in Casamance 12
French in Casamance 14
Chapter Two: THEORETICAL FRAMEWORK 16
Eegimaa Description 17
French Description 19
Languages in Contact 21
Review of Related Literature 23
Chapter Three: THE FIELDWORK 26
The Field of Research 27
The Research Population 27
The Sample 28
Tools of Investigation 28
Chapter Four: DATA ANALYSIS AND INTERPRETATION 29
The Corpus Presentation 30
Morphophonological Analysis 34
Reporting the Findings 43
GENERAL CONCLUSION 44
BIBLIOGRAPHY 46
APPENDICES 49

DEDICATION
This work is dedicated to:
my dear parents Fidele, Rosalie Bassène and all my brothers and sisters. for their cherishing love and constant concern for my success. Boundless thanks for all.
and
Patrick COLY (1979-2005) who did not have the chance to defend his Master dissertation. He was tak en away from our affection by the suddenness of death. May God, Lord of peace and forgiveness welcome him in His Holy Paradise.
Amen.
ACKNOWLEDGMENTS
«The Lord is my shepherd; I have everything I need. He lets me rest infields of green grass and leads me to quite pools offresh water». Psalm 23:1-2
My first thanks go to my dear parents Fidéle and Rosalie Bassène for their cherishing love and constant concern for my success and to my uncle and godfather Léon Bassène for all those years spent under his shelter. Boundless thanks for all.
My special thanks go to Professor Mawéja Mbaya for accepting to supervise this work. He has made numerous proposals for improvement; both in regard to the overall structure of the work and to countless details, and have painstakingly read through the various drafts from the proposal.
I owe also a very special debt of gratitude to all my professors at Gaston Berger University: Dr Abdoulaye Barry for his useful linguistic classes, Dr Omar Fall for his fruitful grammar courses, Pr Baydallaye Kane, Dr Badara Sall and all the others who, from the first year were always present.
The following relatives, friends and colleagues have read the whole or substantial parts of the manuscript in various stages and have made valuable suggestions: Pr Pierre Marie Sambou, Dr Serge Sagna and Dr Alain-Christian Bassène for their continuous support and invaluable advice through all the stages of my writing, Michel Mbodji, Cécilia Faye, Carmen Ndour and all the members of the «Gadiaga Family».
Thanks are also due to Etienne Bassène and Louis Eketbo Bassène who provided me with valuable information on Eegimaa people and their culture.
I am much indebted to the people at the CEM of Enampor for all their support and constant availability. My heartfelt thanks also go to all those who have helped in the fieldwork: Rolande Virginie Sagna, Amiral Bassène, Thibaut Bassène and all the members of A.E.R.M.A (U.C.A.D/Dakar).
Last but not least, my special thanks go to my roommates Joseph Senghor and my cousin and brother Pierre Bassène, with whom I shared years of peaceful neighbouring. My thanks also go to Jules Francois Diatta who has been a constant source of encouragement.
All my classmates (The Class 2003-2004) and the residents of G7G and G7E are associated with these thanks all without any exception and all those who knowingly or otherwise have contributed in making this work what it is.
LIST OF CHARTS, MAPS, TABLES
AND APPENDICES
Charts
Chart 1: Classification of the Djola group languages 9
Maps
Map 1: The location of Mof çvi within Senegal 10
Map 2: The Eegimaa speaking area 10
Map 3: The migration from Burofay towards Mof çvi 13
Tables
Table 1: Eegimaa phonological consonants 17
Table 2: Eegimaa phonological vowels 18
Table 3: IPA chart for French consonants 19
Table 4: French phonological vowels 20
Table 5: Age of the informants 32
Table 6: Sex of the informants 32
Table 7: Level of study of the informants 32
Table 8: Languages spoken by the informants 33
Table 9: Mastery of Eegimaa 33
Appendices
Appendix 1: Portrait of Affiledjo Manga the last «king-priest-of-the-rain» 49
Appendix 2: Questionnaire 50
Appendix 3: List of the informants 51
List of codes and abbreviations
(=) : means «corresponds»

: means «becomes»
[+ATR] : Advance d Tongue Root [-ATR] : Non-Advanced Tongue Root
A.E.R.M.A : Association des Etudiants Ressortissants de Mof çviA.N.S : Archives Nationales du Sénégal (National Archives of Senegal)
Aff. : Affix
C : Consonant