Annex
Tables de Mac Grady
2 tubes par dilution

3 tubes par dilution

Nombre caractéristique

Nombre de cellules

Nombre caractéristique

Nombre de cellules

Nombre caractéristique

Nombre de cellules

Nombre caractéristique

Nombre de cellules

000

001

010

011

020

100

101

110

111

120

121

200

201

210

211

212

220

221

222

0.0

0.5

0.5

0.9

0.9

0.6

1.2

1.3

2.0

2.0

3.0

2.5

5.0

6.0

13.0

20.0

25.0

70.0

110.0

000

001

010

011

020

100

101

102

110

111

120

121

130

200

0.0

0.3

0.3

0.6

0.6

0.4

0.7

1.1

0.7

1.1

1.1

1.5

1.6

0.9

201

202

210

211

212

220

221

222

223

230

231

232

300

301

1.4

2.0

1.5

2.0

3.0

2.0

3.0

3.5

4.0

3.0

3.5

4.0

2.5

4.0

302

310

311

312

313

320

321

322

323

330

331

332

333

6.5

4.5

7.5

11.5

16.0

9.5

15.0

20.0

30.0

25.0

45.0

110.0

140.0

5 tubes par dilution

Nombre caractéristique

Nombre de cellules

Nombre caractéristique

Nombre de cellules

Nombre caractéristique

Nombre de cellules

Nombre caractéristique

Nombre de cellules

000

001

002

010

011

012

020

021

030

100

101

102

103

110

111

112

120

121

122

130

131

140

200

201

202

0.0

0.2

0.4

0.2

0.4

0.6

0.4

0.6

0.6

0.2

0.4

0.6

0.8

0.4

0.6

0.8

0.6

0.8

1.0

0.8

1.0

1.1

0.5

0.7

0.9

203

210

211

212

220

221

222

230

231

240

300

301

302

310

311

312

313

320

321

322

330

331

340

341

350

1.2

0.7

0.9

1.2

0.9

1.2

1.4

1.2

1.4

1.4

0.8

1.1

1.4

1.1

1.4

1.7

2.0

1.4

1.7

2.0

1.7

2.0

2.0

2.5

2.5

400

401

402

403

410

411

412

420

421

422

430

431

432

440

441

450

451

500

501

502

503

504

510

511

512

1.3

1.7

2.0

2.5

1.7

2.0

2.5

2.0

2.5

3.0

2.5

3.0

4.0

3.5

4.0

4.0

5.0

2.5

3.0

4.0

6.0

7.5

3.5

4.5

6.0

513

520

521

522

523

524

525

530

531

532

533

534

535

540

541

542

543

544

545

550

551

552

553

554

555

8.5

5.0

7.0

9.5

12.0

15.0

17.5

8.0

11.0

14.0

17.5

20.0

25.0

13.0

17.0

25.0

30.0

35.0

45.0

25.0

35.0

60.0

90.0

160.0

180.0
Annex i: Table of Mac Grady
Annex ii: Determination of amount of urine ingested from farmers
Protocol
The simulation of this experimentation is done through spreading the urine in the field in the same way a farmer would do. However, we used gloves before handling urine. After we finished handling urine, we withdrew the gloves and put them in sterilized bags to be analyzed. Then, the gloves were rinsed in a fixed volume (100 mL) of ultra-pure water. The amount of nitrogen was determined in this rinsed water. However, we must soak the gloves before analysis to know if nitrogen is not on these gloves where the result may be of use for control.
Assuming that all nitrogen proceeds from urine, we use the equation of conservation of concentration to determine the amount of urine ingested.

Where:
Vi= Volume of urine ingested (L),
Ci= Initial concentration of nitrogen contained in stored urine (mg/L),
Vf= Volume of water where gloves soak (L),
Cf= Concentration of nitrogen of urine in rinsed water (mg/L).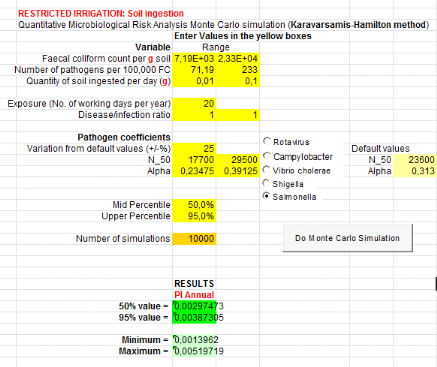 Annex iii: Calculation of Salmonella infection risk from soil ingestion of C+TW treatment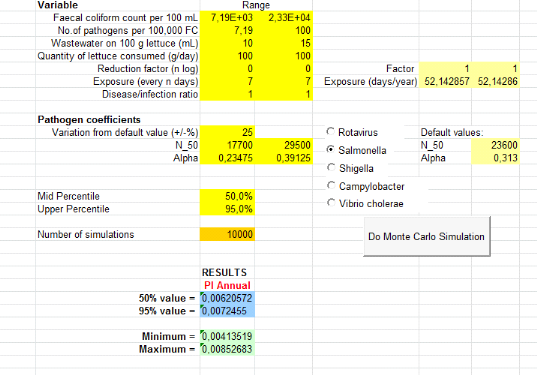 Annex iv : Calculation of Salmonella infection risk from lettuce consumption of C+TW treatment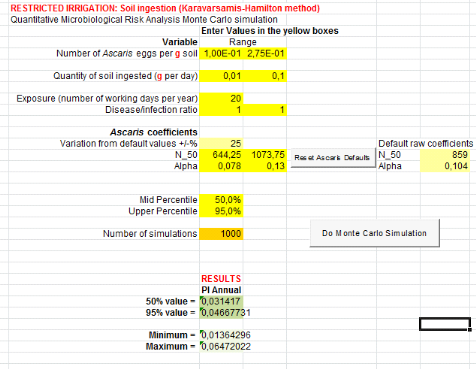 Annex v Calculation of Ascaris infection risk from soil ingestion of C+TW treatment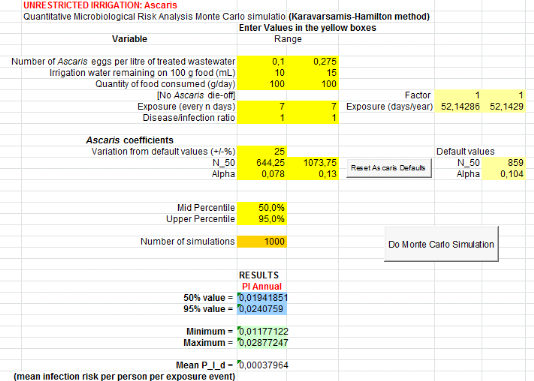 Annex vi: Calculation of Ascaris infection risk from lettuce consumption of C+TW treatment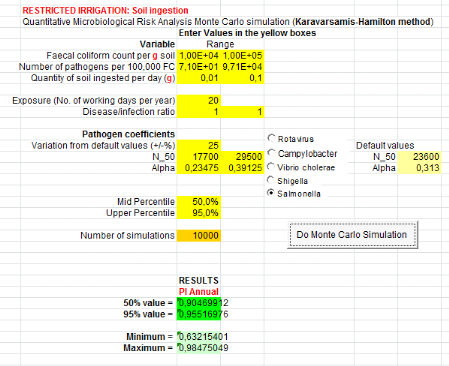 Annex vii :Calculation of Salmonella infection risk from soil ingestion of U+TW treatment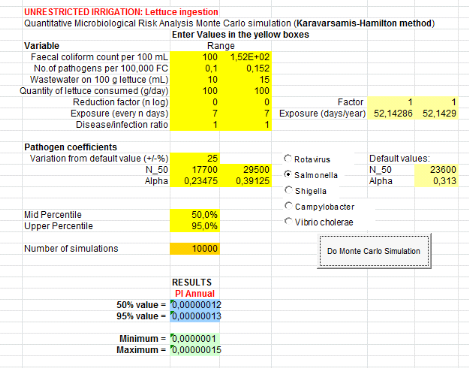 Annex viii : Calculation of Salmonella infection risk from lettuce consumption of U+TW treatment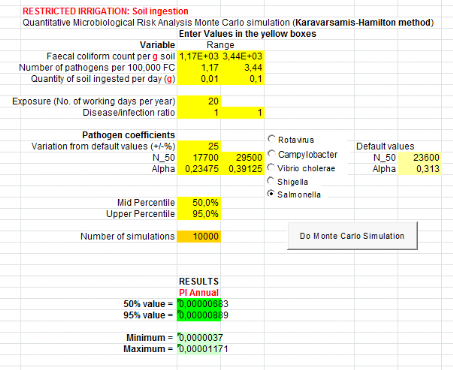 Annex ix : Calculation of Salmonella infection risk from soil ingestion of GW treatment for 20 days exposure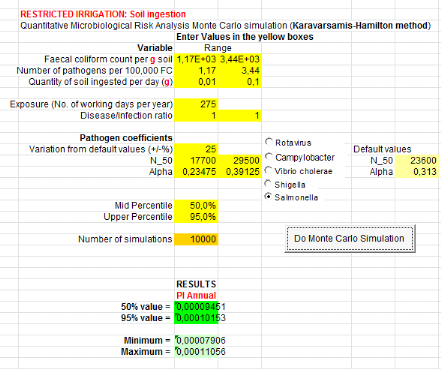 Annex x :Calculation of Salmonella infection risk from soil ingestion of GW treatment for 275 days exposure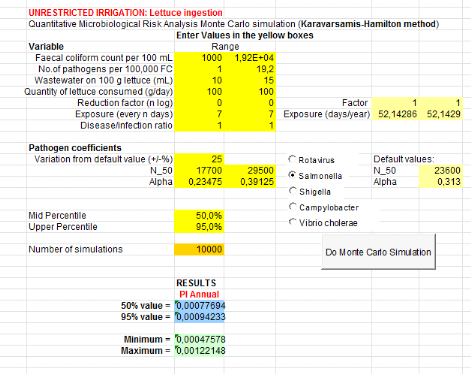 Annex xi : Calculation of Salmonella infection risk from lettuce consumption of GW treatment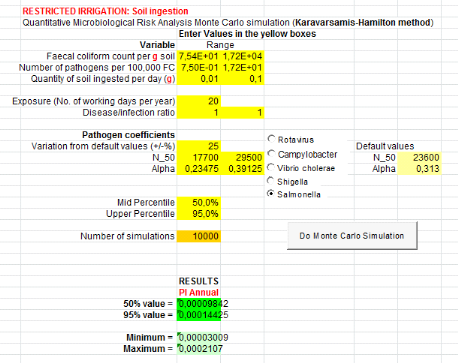 Annex xii : Calculation of Salmonella infection risk from soil ingestion of C+U+GW treatment for 20 days exposure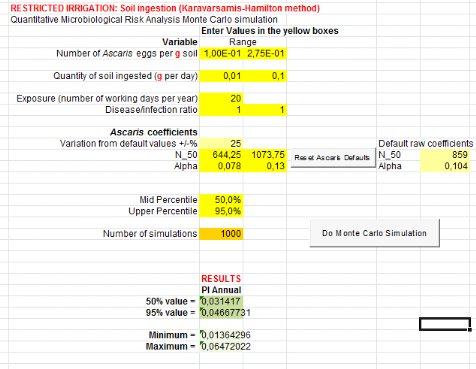 Annex xiii : Calculation of Ascaris infection risk from soil ingestion of C+U+GW treatment from 20 days exposure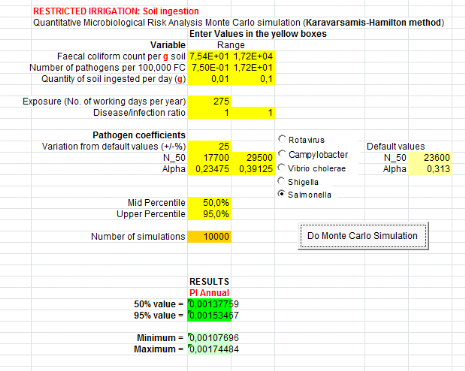 Annex xiv : Calculation of Salmonella infection risk from soil ingestion of C+U+GW treatment for 275 days exposure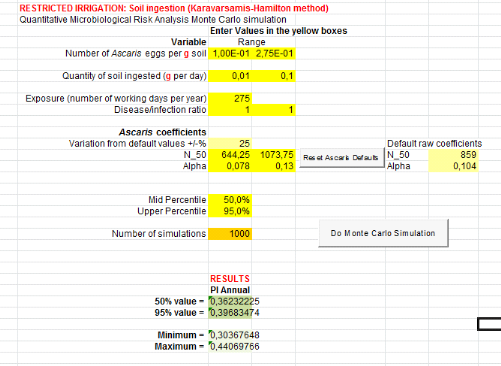 Annex xv: Calculation of Ascaris infection risk from soil ingestion of C+U+GW treatment from 275 days exposure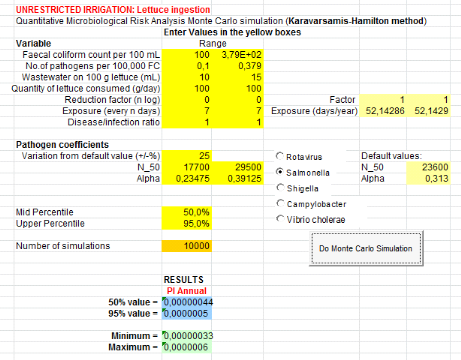 Annex xvi : Calculation of Salmonella infection risk from lettuce consumption of C+U+GW treatment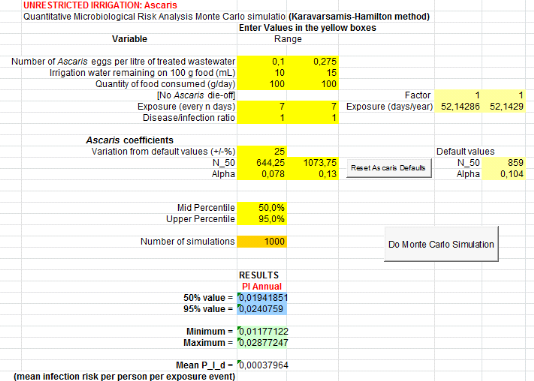 Annex xvii : Calculation of Ascaris infection risk from lettuce consumption of C+U+GW treatment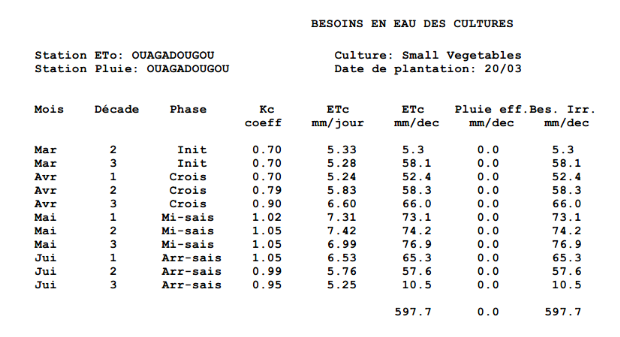 Annex xviii : Besoins en eau de la laitue
Annex xix : Initial amount of indicators and pathogens in urine and greywater
Matrix

Indicators/Pathogens

Urine

Greywater

E.coli

(log10CFU/100mL)

0

4.73#177;1.73

Fecal coliforms

(log10CFU/100mL)

5.12#177;0.71

5.35#177;1.4

Enterococci(log10CFU/100mL)

4.00#177;0.41

4.42#177;1.63

Salmonella(log10 MPN/100mL)

3.95 #177;2.27

156.63#177;199.80

Ascaris(eggs/L)

0

0
Annex xx: Initial amount of indicators and pathogens in compost and soil
Matrix

Indicators/Pathogens

Compost

Soil

E.coli

(log10CFU/gDW)

4.21 #177;3.53

2.10 #177;2.20

Fecal coliforms

(log10CFU/gDW)

4.40 #177;3.55

0

Enterococci

(log10CFU/gDW)

5.82 #177;4.32

0

Salmonella

(log10MPN/g DW)

3.31

0

Ascaris(eggs/gDW)

27

0